EXHIBIT: Jaws '75 Collection
Revered as one of the most successful films of all time, Jaws is also responsible for instilling fear of sharks, and ultimately the ocean. On the brighter side, many movie-goers eventually overcame their fears and took up careers in marine science and conservation, inspiring today's generations to do the same. "Bet you'd like to prove that wouldn't ya… get your name in the National Geographic!" Mayor Vaughn, Jaws 1975
SELECTIONS FROM JAWS '75 COLLECTION - LIVING SHARKS MUSEUM
Artist Roger Kastel illustrated one of the most iconic images ever created, the unforgetible ascending maw of the shark. Printed on the original one sheet poster for the film's release in 1975, the actual painting has gone missing. Kastel was commissioned for a a meager sum with low expectations of the film's success. Additionally he was never contracted royalties for its use, which would have unknowingly made him incredibly wealthy.
Autographed to the Curator is Roger Kastel's pencil rendition of his memorable poster art, acquired in person during a convention appearance.
_____________________
ORIGINAL JAWS MOVIE POSTER 27"x 41"
KASTEL AUTOGRAPHED PENCIL PRINT
Private Collection - Keith M. Cowley
Marketing Jaws the way other major films were marketed was an afterthought. The expectation of Jaws 1975 success was low, and when it hit the ground running the studio cashed in on all kinds of merchandise and collectables.
Jaws Souvenir Brochure and official movie magazines were published in many countries, though they are extremely hard to come across today!
_____________________
JAWS SOUVENIR BROCHURE 1975
JAWS OFFICIAL MAGAZINE OF THE FILM 1975
Private Collection - Keith M. Cowley
When Universal realized the potential after the opening of Jaws in 1975, the producers greenlit countless merchandising deals. Collectibles ranged from posters, books, jewelry, clothing, rubber sharks, drink cups, etc. This included the book The Jaws Log, a post-release rush-written "diary" of the making of the film, commissioned to Jaws screenwriter Carl Gottlieb, who also portrayed the newspaper reporter in the film.
The press photograph shows Jaws producer Richard Zanuck amongst the whole array of advertising and merchandising materials made to satisfy public craving.
_____________________
JAWS RUBBER SHARK TOY 1975
JAWS DRINK CUP 1975
JAWS LOG by CARL GOTTLIEB 1975
Private Collection - Keith M. Cowley
Famous for the climactic jumpscare successfully implemented by Jaws editor Verna Fields, the head of fisherman Ben Gardner reveals itself as Hooper investigates his sharkwrecked and sunken vessel. Molded to match actor Craig Kingsbury, this head was pulled from the original mold fashioned by propmaster Werner Keppler. Six months after the film had wrapped, director Steven Spielberg paid $3000 of his own money to shoot the scene underwater in a pool in Encino California, behind the same residence Fields was editing the film.
_____________________
BEN GARDNER PROP HEAD
Jaws 1975
Private Collection - Keith M. Cowley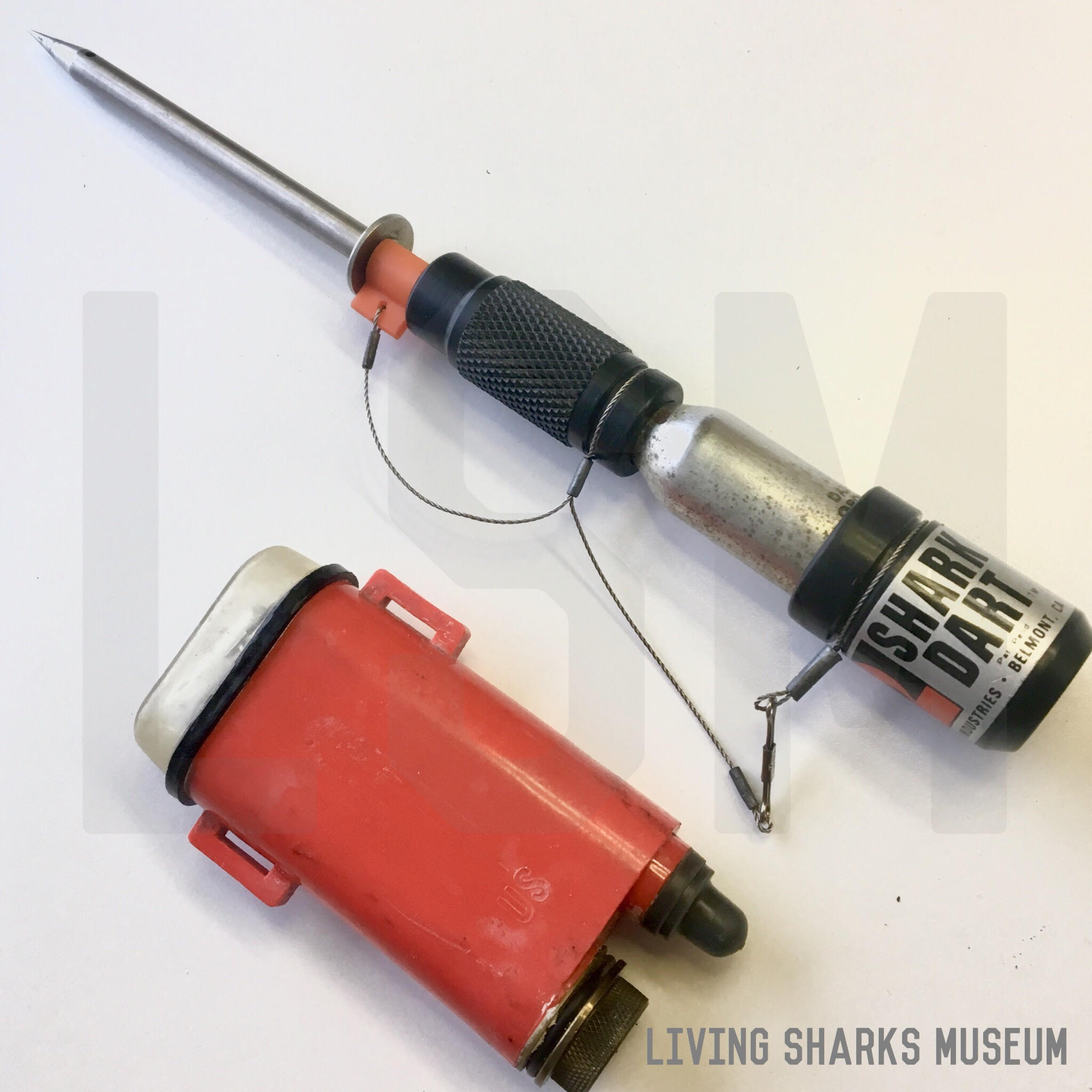 As seen on screen, shark biologist Matt Hooper is tired of Quint's shennagins and ready to implement science. Hooper plans to track the shark with a beacon, and if it comes down to it, pump 20cc's of strychnine nitrate into his mouth if he can get close enough… sounds like a terrible idea. Farewell and adieu.
The props used on-screen were a Shark Dart made by Farralon Industries in the early 1970's which actually deployed a burst of CO2 through the needle tip. The "tracker" was a military marker/survival strobe that came standard issue in U.S. Navy life-vests and boats throughout Korean War and Vietnam.
_____________________
FARRALON SHARK DART - 1972
NAVY MARKER NEO-FLASHER 3DU 5/E
Private Collection - Keith M. Cowley
MORE TO COME…
VISIT THE MUSEUM FOR THE FULL COLLECTION!